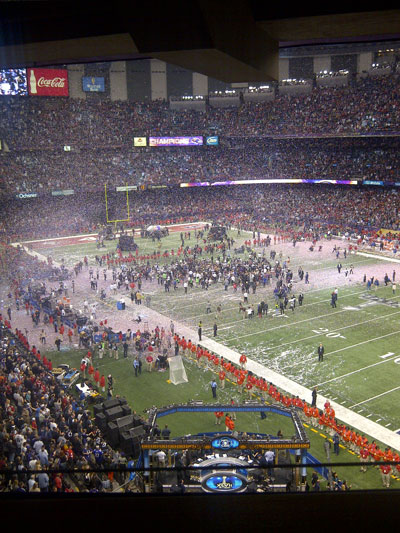 On an annual basis when Super Bowl mania hits and fans become immersed in fantasy football and are closely watching if their favorite team is in the playoffs a certain frenzy occurs in the designated Super Bowl city. On February 2, 2014, Super Bowl XLVIII will be held in the New York/New Jersey area at the MetLife (Meadowlands) Stadium located in East Rutherford, NJ – home to the New York Giants and Jets.
For locals this is a simple public transportation commute involving train or bus. For those who are visitors however, there are logistical questions and details that must be dealt with. For instance – is it better to secure a hotel stay in New Jersey or New York? If one plans only to attend the game and not venture outside the area, then staying in New Jersey is practical though limited in terms of a variance of hotel star ratings and entertainment. One must also recognize the standard four night minimum hotel stay during Super Bowl.
It is my personal belief having provided Super Bowl mania luxury experiences for hosted cities including Miami, New Orleans and Dallas, that the Super Bowl Experience in 2014 is best planned with a stay in New York City where annual Super Bowl parties such as NFL Player events, Maxim, ESPN, Playboy and Leather & Laces will be held. Additionally, a stay in the Big Apple also means checking out the variety of restaurants, museums and Broadway shows. Also, expect the highly anticipated Bud Light Hotel in which the temporarily branded hotel will also serve as a haven for concerts with known musical artists such as Flo Rida, Pitbull, Lil Wayne, and Stevie Wonder.
While there are abundant hotel choices in Manhattan, many of the five star properties ranging from St. Regis to the Plaza Hotel have already sold out of rooms. In this particular instance, it's best to have an event planning company such as Concierge & Events by Victoria manage and negotiate everything from hotel stays, access to Super Bowl parties and premium stadium seating. And speaking of game day, consider the cold weather and if you have a group a suite may be the ideal ticket. With a limited number of suites available to the consumer, expect starting suite costs of $ 750,000.00 inclusive of food and beverage.
If Jean Georges, Mario Batali or Bobby Flay is your thing, then it's best to make early reservations for those incredible dining experiences NOW – some of which depending on the size of your party will require a deposit. If looking for your personal meet and greet with Emmitt Smith or brunch with Dan Marino then it's with tremendous urging that I suggest start working on those player appearances.