When:
September 19, 2018 @ 8:00 am – September 21, 2018 @ 5:00 pm
2018-09-19T08:00:00-04:00
2018-09-21T17:00:00-04:00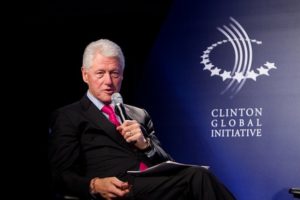 CGI's Annual Meetings have brought together 190 sitting and former heads of state, more than 20 Nobel Prize laureates, and hundreds of leading CEOs, heads of foundations and NGOs, major philanthropists, and members of the media. Meeting participants analyze pressing global challenges, discuss the most effective solutions, and build lasting partnerships that enable them to create positive social change. To date, members of the CGI community have made more than 3,400 commitments, improving the lives of over 430 million people in more than 180 countries.
The 2016 Annual Meeting will take place September 19–21 in New York City.
Interested in this event? Contact us!