When:
August 26, 2018 @ 8:00 am – 5:00 pm
2018-08-26T08:00:00-04:00
2018-08-26T17:00:00-04:00
Contact:
Victoria Hoffman
305-632-8339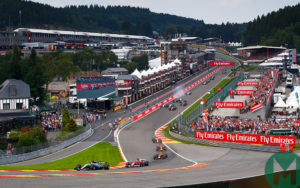 The Belgian Grand Prix is an automobile race, part of the Formula One World Championship. The first national race of Belgium was held in 1925 at the Spa region's race course, an area of the country that had been associated with motor sport since the very early years of racing. To accommodate Grand Prix motor racing, the Circuit de Spa-Francorchamps race course was built in 1921 but it was only used for motorcycle racing until 1924. After the 1923 success of the new 24 hours of Le Mans in France, the Spa 24 Hours, a similar 24-hour endurance race, was run at the Spa track.
The Belgian Grand Prix was designated the European Grand Prix six times between 1925 and 1973, when this title was an honorary designation given each year to one Grand Prix race in Europe. It is one of the most popular races on the Formula One calendar, due to the scenic and historical Spa-Francorchamps circuit being a favourite of drivers and fans.
Interested in attending this event? Contact us!