When:
August 26, 2018 @ 8:00 am – September 3, 2018 @ 5:00 pm
2018-08-26T08:00:00-04:00
2018-09-03T17:00:00-04:00
Where:
Desert Rock
Nevada
Contact:
Victoria Hoffman
305-632-8339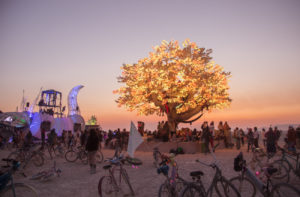 A city in the desert. A culture of possibility. A network of dreamers and doers.
Burning Man isn't your usual festival. It's a city wherein almost everything that happens is created entirely by its citizens, who are active participants in the experience.
Burning Man's Mission:Burning Man Project's mission is to produce the annual event known as Burning Man and to guide, nurture and protect the more permanent community created by its culture. Our intention is to generate society that connects each individual to his or her creative powers, to participation in community, to the larger realm of civic life, and to the even greater world of nature that exists beyond society.

We believe that the experience of Burning Man can produce positive spiritual change in the world. To this end, it is equally important that we communicate with one another, with the citizens of Black Rock City and with the community of Burning Man wherever it may arise. Burning Man is radically inclusive, and its meaning is potentially accessible to anyone.
Interested in attending this event? Contact us!