When:
October 31, 2018 – November 2, 2018
all-day
2018-10-31T00:00:00-04:00
2018-11-03T00:00:00-04:00
Contact:
Victoria Hoffman
305-632-8339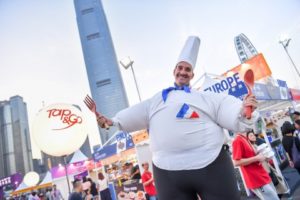 Day of the Dead (Spanish: Día de Muertos) is a Mexican holiday celebrated throughout Mexico, in particular the Central and South regions, and by people of Mexican heritage elsewhere. The multi-day holiday focuses on gatherings of family and friends to pray for and remember friends and family members who have died, and help support their spiritual journey. In 2008, the tradition was inscribed in the Representative List of the Intangible Cultural Heritage of Humanity by UNESCO.[1]
Despite the white faces and the skulls, it's not meant to be a spooky holiday and it's not Halloween. Also known as Día de Muertos, the celebration originated in central and southern Mexico. Those who celebrate it believe that at midnight on October 31, the souls of all deceased children come down from heaven and reunite with their families on November 1, and the souls of deceased adults come visit on November 2.
Interested in this event? Contact us!