When:
2020-01-05T00:00:00-05:00
2020-01-06T00:00:00-05:00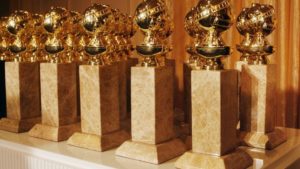 Golden Globe Award, any of the awards presented annually by the Hollywood Foreign Press Association (HFPA) in recognition of outstanding achievement in motion pictures and television during the previous year. Within the entertainment industry, the Golden Globes are considered second in importance both to the Academy Awards (for film) and to the Emmy Awards (for television), and the televised awards ceremony is a comparably lavish affair.
For each medium, Golden Globes are given in several categories. The film awards include those for best motion picture, best actor, and best actress, each separated into "drama" and "comedy or musical" divisions. Supporting acting performances, direction, screenwriting, music, animated films, and foreign-language films are also honoured. The television awards include those for drama series, comedy or musical series, miniseries or movies, as well as for acting performances in each genre or format. For all competitive awards, members of the HFPA cast ballots to determine a slate of nominees and then usually a single winner in each category. In most years, the Cecil B. DeMille Award, a prize for lifetime achievement, is also bestowed. Golden Globe winners receive a statuette consisting of a globe encircled by a strip of film.
Interested in this event? Contact us!