When:
August 16, 2018 @ 8:00 am – 5:00 pm
2018-08-16T08:00:00-04:00
2018-08-16T17:00:00-04:00
Contact:
Victoria Hoffman
305-632-8339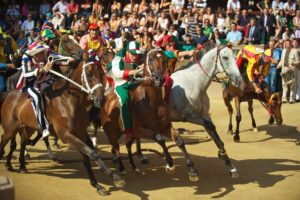 On the day of the Palio race the city is in full turmoil and the entire day is dedicated to the event.
Around 8 a.m., in the chapel next to the Palazzo Comunale, the Bishop celebrates the "Messa del fantino" or mass for the horse jockeys. Shortly after the mass the last trial takes place in Piazza del Campo, the one called "provaccia".
At 10.30 a.m. within the Palazzo Comunale and in the presence of the mayor, the "segnatura dei fantini" takes place. The name of the jockeys are confirmed and cannot be substituted from that point on.
At around 3 p.m. each Contrada performs a blessing ceremony of its horse and afterwards joins in the large parade in historical costume, with over 600 participants, that winds through the city. The parade arrives around 5 p.m. at the Piazza del Campo, and ends by around 6.30-7 p.m. Shortly thereafter the explosion of a firecracker signals the entrance of the horses into the piazza. As the jockeys come out, each one receives a whip made out of ox sinew which they can use to prod their horse or to irrate the other opponents in the race.
Interested in attending this event? Contact us!