When:
November 22, 2018
all-day
2018-11-22T00:00:00-05:00
2018-11-23T00:00:00-05:00
Contact:
Victoria Hoffman
305-632-8339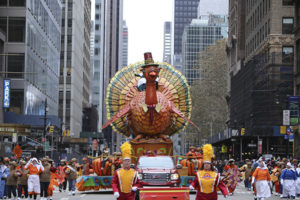 The annual Macy's Thanksgiving Day Parade in New York City, the world's largest parade,[2] is presented by the U.S.-based department store chain Macy's. The tradition started in 1924,[3] tying it for the second-oldest Thanksgiving parade in the United States with America's Thanksgiving Parade in Detroit (with both parades being four years younger than Philadelphia's Thanksgiving Day Parade). The three-hour Macy's event is held in Manhattan starting at 9:00 a.m. Eastern Standard Time on Thanksgiving Day, and has been televised nationally on NBC since 1952.
Interested in this event? Contact us!