When:
October 23, 2018 – October 31, 2018
all-day
2018-10-23T00:00:00-04:00
2018-11-01T00:00:00-04:00
Contact:
Victoria Hoffman
305-632-8339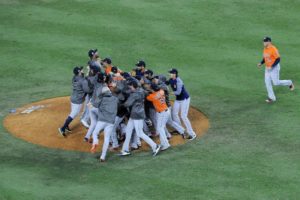 The World Series is the annual championship series of Major League Baseball (MLB) in North America, contested since 1903 between the American League (AL) champion team and the National League (NL) champion team. The winner of the World Series championship is determined through a best-of-seven playoff, and the winning team is awarded the Commissioner's Trophy.[1] As the series is played during the fall season in North America, it is sometimes referred to as the Fall Classic.[2]
This year, Major League Baseball is set to crown a World Series champion in October, according to the post-season schedule released by the commissioner's office on Thursday.
The best-of-seven championship series between the National and American League winners will start on October 23 in the home ballpark of the contender with the superior regular-season record.
A seventh game, if needed, would be played on October 31.
Interested in this event? Contact us!