When:
September 17, 2018 @ 8:00 am – 5:00 pm
2018-09-17T08:00:00-04:00
2018-09-17T17:00:00-04:00
Where:
Los Angeles
CA
USA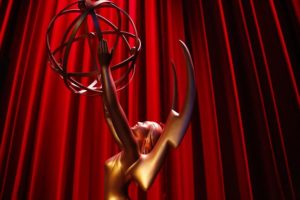 The Primetime Emmy Award is an American award bestowed by the Academy of Television Arts & Sciences (ATAS) in recognition of excellence in American primetime television programming.
The Primetime Emmy Awards generally air in mid-September, on the Sunday before the official start of the fall television season. They are currently seen in rotation among the four major networks (ABC, CBS, Fox, and NBC)
Ballots to select the nominations are sent to Academy members in June. For most categories, members from each of the branches vote to determine the nominees only in their respective categories. All members can however vote for nominations in the best program categories. The final voting to determine the winners is held in August, and is done by judging panels. In June, the Academy solicits volunteers among its active members to serve on these panels. All active members may serve on the program panels; otherwise they are restricted to those categories within their own branch.
Interested in this event? Contact us!