When:
November 8, 2019 – January 1, 2020
all-day
2019-11-08T00:00:00-05:00
2020-01-02T00:00:00-05:00
Contact:
Victoria Hoffman
305-632-8339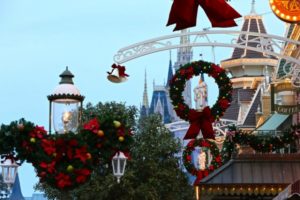 The Magic Kingdom closes to all but the event ticket holders for this holiday party. The magic begins with "snow" falling on Main Street.
There's complimentary Christmas cookies and hot cocoa. This year, the castle glistens with shimmering 'icicles.' An annual highlight is the incredible parade. With Gingerbread Men, Elves, Snowmen and the amazing Wooden Soldiers, you'll be filled with holiday cheer as they accompany Mickey and friends on their nightly march along the parade route. The grand finale is an appearance by Santa himself.
With Christmas Carols in the air, special holiday entertainment, and a spectacular version of the Wishes fireworks themed to the evening's festivities, you'll experience an unforgettable evening. Of course, some of the most popular attractions are open for your enjoyment. The party begins at 7:00 and ends at midnight.  You can get into the Magic Kingdom at 4:00 pm with your Party ticket.
Interested in this event? Contact us!